Whether you're a Cali local or visiting the Golden State for the first time, a journey up Highway 1 has to be experienced. Not only is it one of the world's best road trips, but it brings you through some of the best places in California. Rugged coastline, historic buildings, lavish mansions, delicious food and wine. You get it all on a Highway 1 road trip.
With Daytrip, you can experience this amazing drive, without well, actually having to drive. You can relax and devote your full attention to the landscape as it passes by (and keep an eye out for the legendary wild zebras). Plus, you never have to worry about parking, and you don't have to abstain from those delicious California wines while you travel! 
Your Highway 1 Itinerary
Los Angeles to San Luis Obispo
If you're an LA local, you've already got your go-to spots, but sometimes it's nice to play tourist for an LA staycations. Actually, even if you've lived there for years, you probably haven't done everything. It's a big city.
If it's your first time visiting, obviously have to see the famous Hollywood sign. It's there. It's free. It's an international icon. From there, follow in the footsteps of the stars at the Walk of Fame, or better yet, get a tour of Warner Bros. Studio. Or join one of the other studio tours in LA.
And speaking of Hollywood history, go way, way back (we're talking 65 million years) at the La Brea Tar Pits. They're a filming location staple, and absolutely free to visit. Chances are you'll even see archaeologists at work extracting fossils from this geological oddity. For more ancient history, visit the Natural History Museum. It's one of the best in the US (if not the world), and a must for Jurassic Park fans.
Not enough? There's loads more to do in LA. Art museums like The Broad (which is free), beaches, nightlife, food, celebrity hunting. The City of Angels is your oyster.
But at some point, you've got to break free – and that's when you want to hit Highway 1. First up, head from Los Angeles to San Luis Obispo.
Santa Barbara
Get a taste of SoCal perfection with 90 minutes in Santa Barbara. Everyone knows about the perfect weather, beautiful beaches, but what about the historic buildings? Santa Barbara's Old Mission dates back to the original Spanish settlement and is the state's prettiest. And the El Cuartel adobe at the presidio is the second-oldest surviving building in the state. 
La Purisima Mission
For some Spanish colonial charm and beautiful scenery, stop for two hours at the La Purisima Mission. Established in 1787 and rebuilt following an earthquake in 1812, it's the only complete Spanish mission left in the state. Along with the historic buildings, there's 25 miles of hiking trails through the surrounding park if you need to stretch your legs. Throughout the year there are special reenactment days showcasing traditional crafting skills used by the residents.
Arrival in San Luis Obispo
San Luis Obispo is the perfect place to SLO down and really appreciate the wonders of the California coast. Of course there's a beach, but that's not even one of the town's highlights! 
Bishop's Peak, the tallest of 9 volcanic mounts, makes for a great hike. After you've conquered the hill, you're rewarded with a panorama of wineries, orangeries, and a sweep of the Pacific Coast. 
Down in town, wander through the historic district to admire buildings from the late 18th through early 20th centuries. The 18th century Mission San Luis Obispo de Tolosa is unique in California for its combined belfry and vestibule. The other can't miss landmark? The Madonna Inn. A proto-Postmodern monument to camp, the eccentric decor is a delight even if you're not staying there.
Wherever you are in  San Luis Obispo, you're not far from a wine bar. Unwind by sampling some regional wine before heading out for dinner. SLOcals do meals a bit differently – why have a full meal at one restaurant when you can visit a different one for each course? Think a foodie pub crawl. 
If you're in town on a Thursday, you can't miss the Downtown SLO Farmers' Market. Considered one of the best in the state, this six-block bonanza is alive with fresh food stalls and live music.
Duration with stops: 7.5 hours
Request a custom trip from Los Angeles to San Luis Obispo on Highway 1
San Luis Obispo to San Francisco
Once you've decompressed, set a course from San Luis Obispo to San Francsico.
Hearst Castle
It's a short detour from Highway 1, but this is one of the most fascinating buildings in the US. Hearst Castle was created by Julia Morgan, a pioneering female architect, and filled with "a collection of everything so big it can never be cataloged or appraised". Seriously, this was literally the inspiration for Xanadu in Citizen Kane. Hearst shipped over entire sections of historic European buildings to build the castle. Then he filled it with his private art collection, which included everything from ancient Egyptian statues to one of the world's greatest collections of Greek vases, to Renaissance paintings and Neo-Classical artwork. You can't be in the area without stopping for 75 minutes to take a tour.
Castle Rock Viewpoint
Big Sur is perhaps one of the most stunning sections of Highway 1, and the Castle Rock Viewpoint is the best spot to take in the area's beauty! Explore the multiple turnoffs around the early 20th century bridge for 20 minutes for different perspectives up and down the coast.
Monterey
Monterey is one of the best getaways in California. Stop for an hour to admire the preserved Spanish architecture, and learn about the underwater biome in the Monterey Bay Aquarium. Before you set off, sample the sea's bounty at the Fisherman's Wharf. Honestly though, you might want to stay a few days…
Arrival in San Francisco
The City by the Bay may be small, but it justly deserves its place as one of the world's most vibrant cities. You (literally) can't not see the Golden Gate Bridge, and could easily spend a day just seeking out the best views. Walking or biking across it to the Marin Headlands also makes for a great day out.
From the flavors of Chinatown to the flower-power past of Haight-Ashbury, each of the city's neighborhoods has its own identity. Part genuine fishing enclave, part amusement park, Fisherman's Wharf is a perennial favorite, and not just for its amazing seafood. Head down to Pier 39 to see the neighborhood's most famous residents: a colony of sea lions. If you have any interest in aquatic ecology, pop into the fantastic Aquarium of the Bay. Fisherman's Wharf is also the gateway to San Francisco's most infamous attraction;  Alcatraz Island.
And we haven't even gotten to San Francisco's amazing museums, mind-blowing food scene, and amazing parks! Pro tip: If taking a Blue & Gold Fleet Bay Cruise Adventure, visiting the California Academy of Sciences, Aquarium of the Bay, and The Exploratorium or the San Francisco Zoo and Gardens is on your to-do list, consider getting a CityPASS. It includes prepaid admission to all of these (and some alternatives).
Duration with stops: 8 hours
Request a custom trip from San Luis Obispo to San Francisco on Highway 1
San Francisco to Mendocino
After you've basked in the beauty of the Bay, continue up Highway 1 from San Francisco to Mendocino.
Sonoma Coast State Beach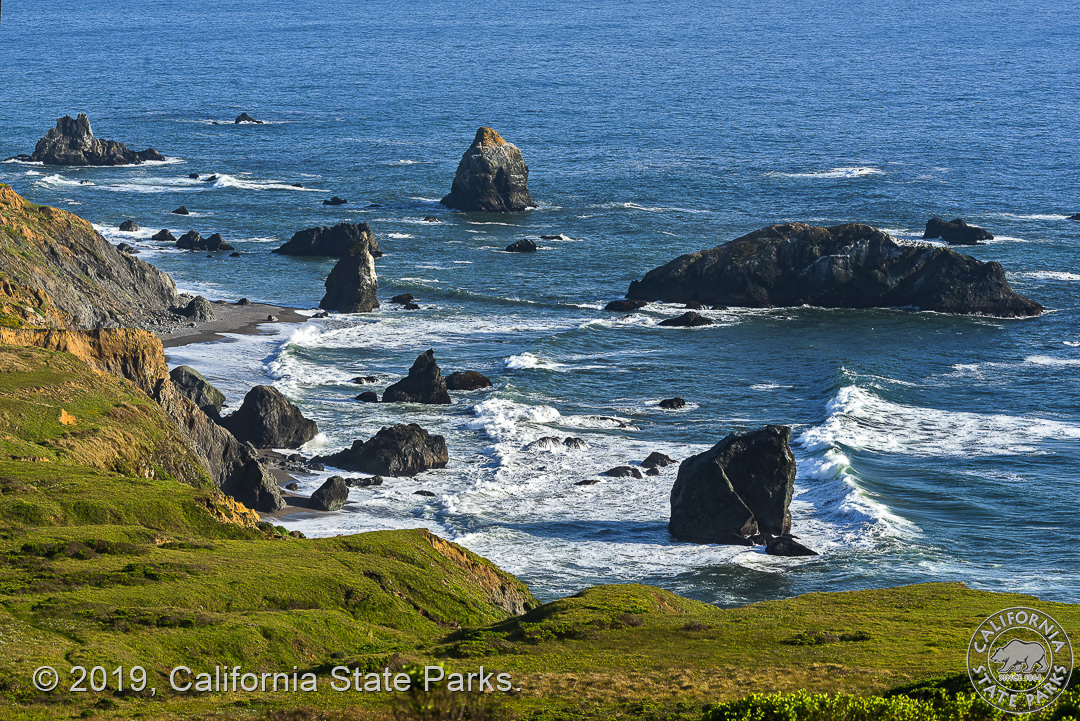 This 17 mile stretch of coast is technically made up of multiple beaches broken up by rocky headlands, so there's a lot to see. But we think Goat Rock Beach is the best place to spend an hour. The sandy beach is easily accessible, there's impressive rock formations and arches, and a colony of harbor seals!
Sonoma Valley
California's other great wine-growing region, Sonoma Valley is the place to go for tasty wines in a bucolic setting. We're not bashing Napa, but Sonoma has multiple wine varieties, and everything from swanky cellars to little family-run estates. So take an hour (or more) to visit one of the many wineries. Of course, if you prefer a more sophisticated setting to sip Cabernet, head to Napa, the "Disneyland of Wine".
Salt Point State Park
With 20 miles of trails that pass sandstone cliffs and seaside forest, Salt Point State Park is the perfect place to take in the rugged beauty of California's "Lost Coast". While hiking the headland, keep an eye out for "tafonni", strange honeycombed sandstone formations. The sandstone from Salt Point was used in the construction of San Francisco in the 1800s, and you can still see the eyebolts where ships moored while sandstone slabs were loaded aboard in Gerstle Cove.
Arrival in Mendocino
Perched on a rocky bluff overlooking the Pacific, Mendocino is nothing short of dramatic. And we mean that literally. Since the turn of the 20th century, it's become something of an artists' hideaway. The town is dotted with art galleries and museums, which combined really paint a picture of Mendocino's development. And at night, you can almost always count on the Mendocino Theatre Company (or one of the other theaters in town) to put on a show. Visit in June for the Mendocino Film Festival, or July to groove to the Mendocino Music Festival.
Mendocino's other treasure lies just 2 miles north: the Russian Gulch State Park. From rocky coast to dense forest, you can swim and hike in this beautiful natural playground. It's prime place to practice your photography skills, with the churning waters of the Devil's Punch Bowl, concrete bridge, and 36-foot high waterfall all prime subjects.
Duration with stops: 8 hours
Request a custom trip from San Francisco to Mendocino on Highway 1
If you've conquered the coast and are ready to see more of California's stunning beauty, you can head up into the Sierras on Highway 395. Or if you're pressed for time, check out the mountains of San Bernardino on the Rim of the World Scenic Byway. It's only a 100-mile drive, so makes for a great California weekend getaway.